Vous vous souvenez du film "Elle voit des nains partout" de Jean-Claude Sussfeld ?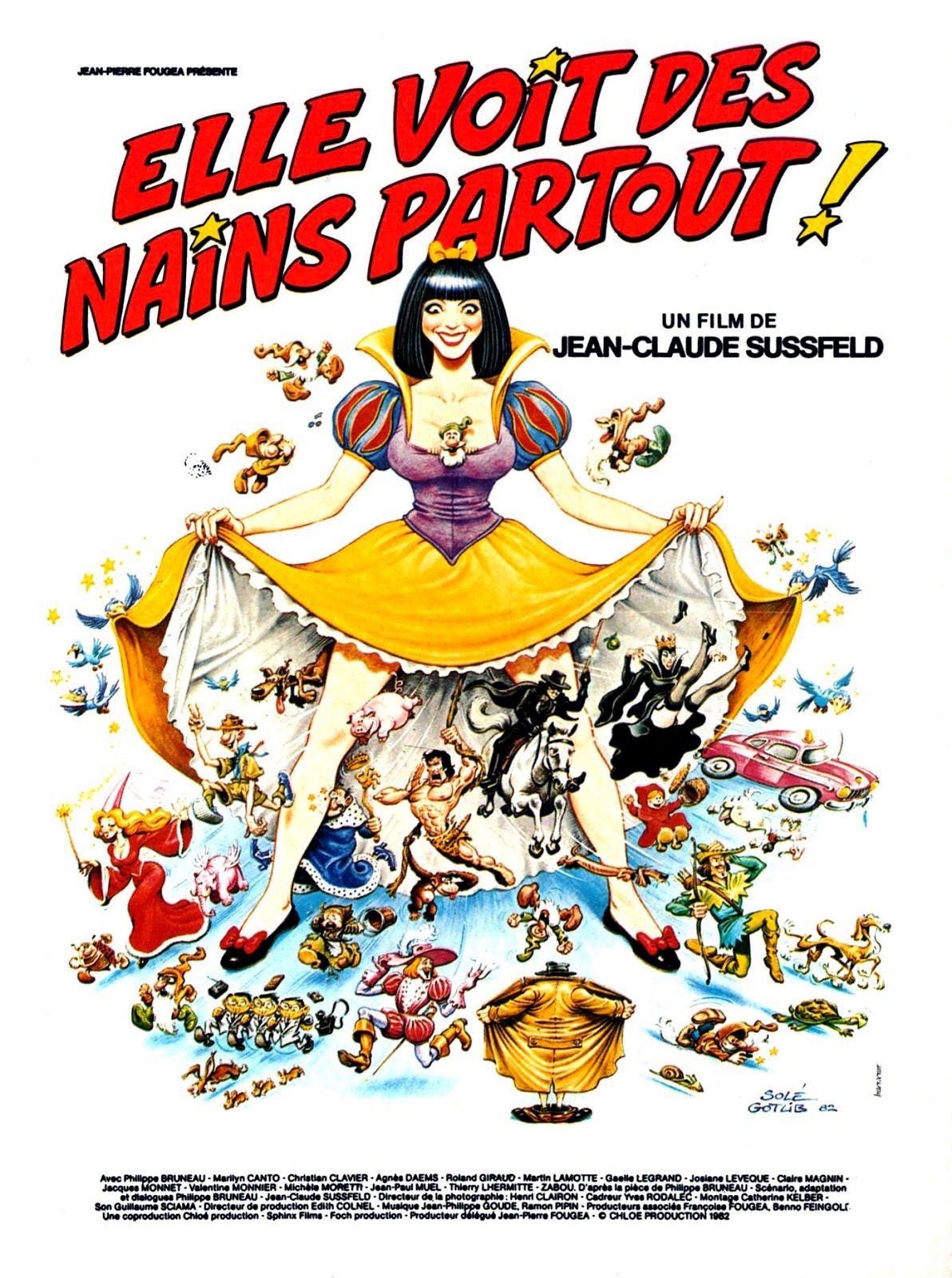 Là, ce serait plutôt du genre : "Il voit des espions partout".
Et Bertrand Vilain nous retombe à pieds joints dans la flaque boueuse de la théorie du complot.
Je reproduis ici l'article de "The European" du 12 novembre 1992.
Publié, à l'époque, pour booster la sortie du livre de Denis Seznec "Nous, les Seznec".
Et encensant le petit-fils et son grand-père.
Je le publie car notre "brocanteur à l'international" reconverti en crêpier texan, nous fait une fixette sur cette page.
Sur le FBI et sur le KGB.
(NDLR Vous avez lu : un chapitre de son futur livre, 12.3, est consacré à nous raconter ce qu'est un broc à l'international !!!! Bigre !)
Resituons cette parution dans son contexte de l'époque.
in Denis Seznec en page 398 :
"Le 21 décembre 1992, une information vient compléter toutes celles confirmant le trafic avec les Soviets. Ce soir-là, sur l'écran du 20 heures de TF1, était projetée une photo sortie directement des archives du FBI (Federal Bureau of Investigation des Etats-Unis). Inédite, elle venait d'être rendue publique par le journal britannique The European qui consacrait un grand article à l'affaire Seznec. Cette photo, prise en mai 1923 dans une rue de Moscou, montrait le chef de la Guépéou, la police soviétique, Félix Dzerjindki, à bord... d'une Cadillac Torpédo identique à celle de Quemeneur. Ce modèle n'ayant été livré par les Américains sur notre sol qu'après octobre 1917 (date à laquelle la France a rompu toute relation avec les Soviétiques), cela prouvait qu'au moins une de ces voitures américaines était partie des immenses stocks de surplus américains de Lambézellec, en Bretagne, pour arriver à bon port, à Moscou.
La suite du reportage télévisé laissait entendre que, grâce aux archives du KGB qui s'ouvraient au monde occidental, le trafic des Cadillac tant dénoncé par le juge Hervé et les partisans de mon grand-père commençait enfin à devenir une réalité historique."
On a cité le KGB et la Guépéou, et c'est parti pour le complot international !
Voilà le texte in british :
The most famous french crime story of the century is about to be reritten. For the first time in history, France's Court of Criminal Appeal is to assemble as a supreme court to consider granting a posthumous reprieve.
The man at the center of the case is Guillaume Seznec, who received a life sentence for murder 70 years ago. He protested his innocence right up to his death.
Today his grandson Denis has taken up the fight with a new book We, the Seznecswhich he hopes will strike a final blow for justice before his grandfather's case comes up for review.
The Seznec saga has long been a crime célèbre in France. Denis Seznec can count on a huge wave of public sympathy, especially in his native Brittany, and more than 400 French members of parliament have backed the call for a review of the original trial.
The saga began on 13 June, 1923, when a Breton Christian Democrat city councillor, Pierre Quémeneur, disappeared while driving a Cadillac from Brest to Paris. A frien of his, Guillaume Seznec has been on the trip, but when they got half-way he left his companion and went on to Paris by train. Quémeneur vanished.
The French Special Branch, the Sureté, quickly took over the case because a political element was involved : not only was Quémeneur a member of the regional council, but, together with Seznec, he ran a shady operation smuggling cars to the Soviet Union, then subject to a trade embargo.
The pair has began their lucrative trade at the end of the First World War, when the Brest based US Expeditionary Force went home, abandoning thousand of tonnes of military hardware. - just as they did last year in Kuwait.
Among the trucks and weapons were flashy Type 57 "Torpedo" Cadillacs used by US officers, which Quémeneur and Seznec bought and sold to customers in the East - including it is thought, Felix Dzerjinski, head of the Soviet Union's dreaded GPU secret police, forerunner of the KGB.
A fortnight after Quémeneur's disappearance, Seznec was arrested and charged with his murder. It was an old trial. No corpse was ever produced, nor was there any apparent motive for the crime ? Witnesses who spoke only Breton and knew no French were disregarded. Moreover, several people told police that they had met Quémeneur in Paris and elsewhere after he was disappeared.
(……….)
…. shortly after Quémeneur's disappearance, purposedly from Quémeneur himself. It read "I shall be back home in a few days. Everything is fine". The typewriter on which the letter was ritten was later found at Seznec's home.
In november 1924, Seznec was convicted of murder and sentenced to hard labour for life on Devil's island, off the cost of french Guyana, where he began the miserable existence of a bagnard , made famous by the novel Papillon, later filmed.
In 1927, Seznec began to proclam his innocence. Bey the early's 1930, a judge, backed by the League of Human Rights, started a fiery crusade for Seznec's reprieve. But, on the point of receiving a pardon, Seznec declined saying "Only guilty people asked to be pardoned".
But then, six members of the original jury were calling for a retrial. They were helped in 1936 by inspector Pierre Bonny, the Sureté's chief investigator, who confessed that he had been ordered by his superiors to plant the typewriter in Seznec's house.
A retrial was scheduled , but the Second World War intervened - and on the liberation of France Inspector Bonny was sentenced to death for activities on behalf of the Gestapo. Before being shot, he apologised for "sending an innocent man, Seznec, to hard labour".
That remark as enough. Two yezrs later, Genaral de Gaulle ordered Seznec's release, and in 1947, he made a triumphant return to France. But in december 1953 Seznec as knocked down by a lorry, which like Quémeneur himself disappeared without trace. He died two months later. If Seznec was framed by the Sureté, it was never made clear why - nor he is likely to be discovered now. Denis Seznec however, is more concerned with clearing the family name. He has been serking a judicial reprieve since 1977. If his grandfather's total innocence cannot be proved, he argues, there is at least a substantial element of doubt about the safety of his conviction.
In 1989, legislation was passed, known as the Seznec Law, which facilitated review of such cases, and from now until December, the matter is due for a final decision.
There is a good reason for the timing. Next month, French television will screen a series The Seznec Saga, which will later be shown across Europe. The judges could hardly risk being seen to be swayed in their deliberation by an international media campaign.
"Nous, les Seznec" by Denis Seznec published by Robert Laffont, Paris, Francs 125.
This 1920's Cadillac smuggler was jailed for an unproved killing. Now his name may be cleared at last, reports Roger Faligot.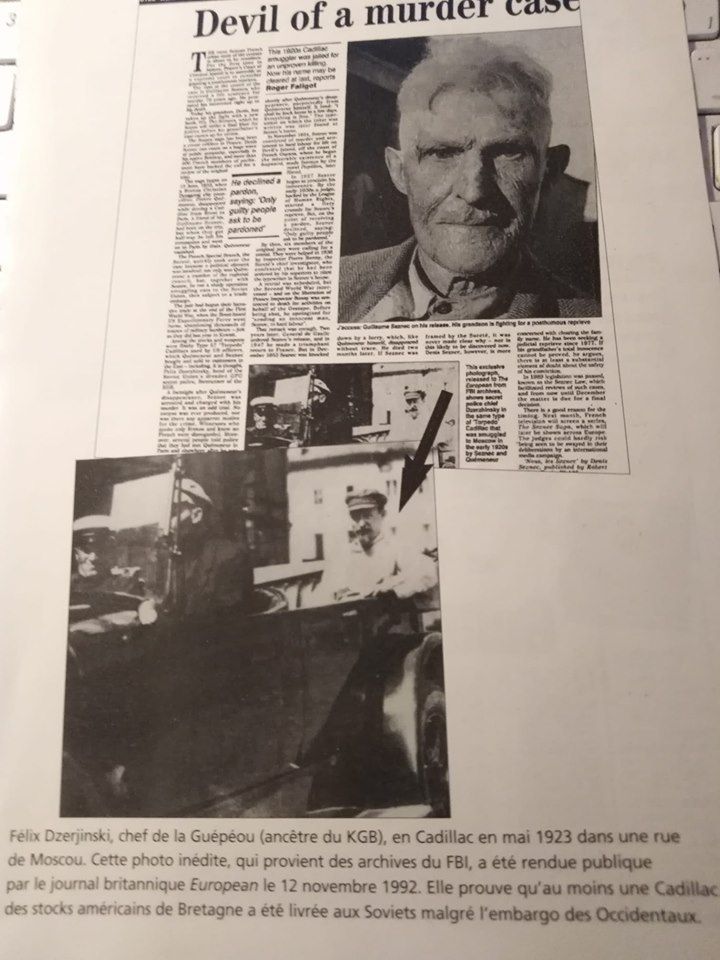 Légende de la photo :
"This exclusive photograph, released to The European from FBI archives, shows secret police chief Dzerjinsky in the same type of "Torpedo" Cadillac that was smuggled in Moscow in the early 1920's by Seznec and Quémeneur."
……………………………
Souvenez-vous...
Le mot "Soviets" avait déjà été cité en juillet 1923...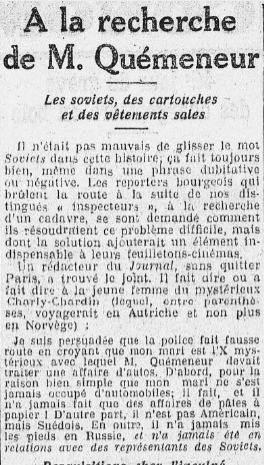 "Soviets, s'indigne, le 2 juillet 1923, le journal communiste L'Humanité, il n'était pas mauvais de glisser le mot Soviets dans cette histoire, ça fait toujours bien, même dans une phrase dubitative ou négative."
Dans L'avenir de la Mayenne du 12 juillet 1923 :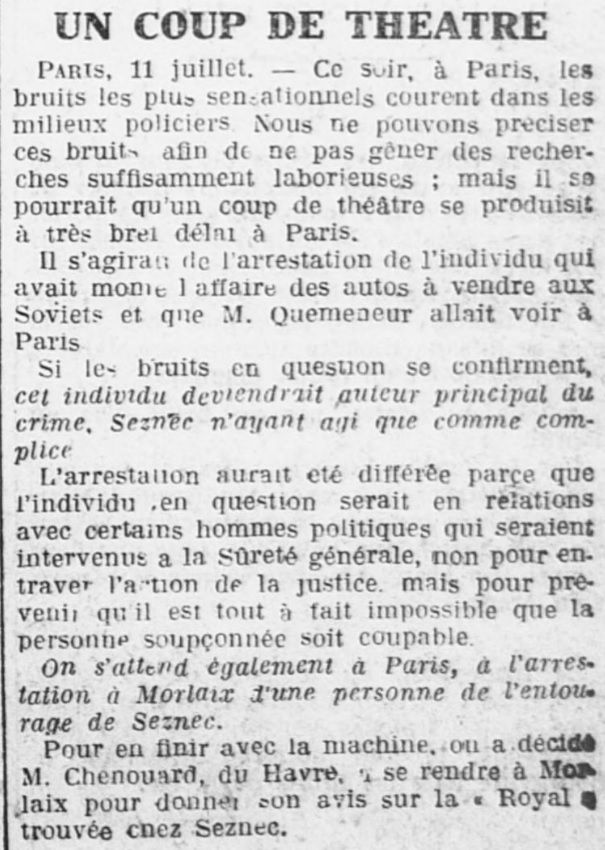 et in Le Finistère du 14 juillet 1923 :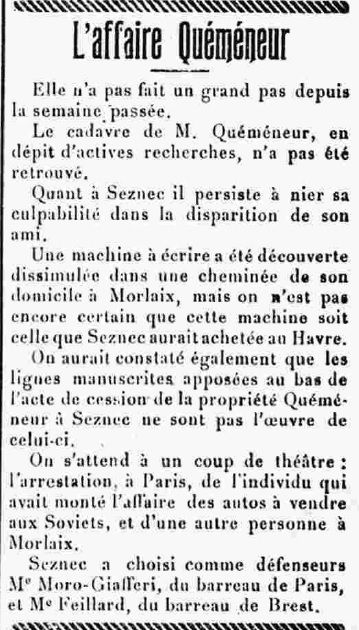 On est en plein complot national : les politiques intervenant auprès de la Sûreté générale.
Et puis...
Quand on pique une phrase dans un ouvrage…
Il faut toujours bien veiller à la resituer dans son contexte historique.
Là, le but, c'était bel et bien encenser la sortie du livre de Denis Seznec.
Enfin, pouvez-vous m'expliquer...
En quoi cet article, bourré d'inexactitudes et d'inventions de Roger Faligot, aidé par Denis Seznec...
Peut prouver quoi que ce soit ?
Si ce n'est que les médias ont bel et bien été manipulés par Petit-Fils Premier.
Et que, après cette longue période d'intoxication...
Il nous faudra plus d'une cure pour revenir à la vérité première.
Liliane Langellier